2016 Caine Prize Residency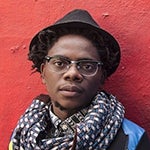 The Chair of Judges, Delia Jarrett-Macauley, announced Lidudumalingani Mqombothi as the winner of the £10,000 prize at a dinner held July 4, 2016, at the Bodleian Library in Oxford.
Told from the perspective of a girl who acts as her sister's protector, "Memories We Lost" recounts what happens when serious mental illness is badly misunderstood in a South African village.
Jarrett-Macauley praised the story for exploring the nuances of "a difficult subject – how traditional beliefs in a rural community are used to tackle schizophrenia. This is a troubling piece, depicting the great love between two young siblings in a beautifully drawn Eastern Cape. Multi-layered, and gracefully narrated, [it] leaves the reader full of sympathy and wonder at the plight of its protagonists."
The Caine Prize for African Writing is named in memory of the late Sir Michael Caine, former Chairman of Booker plc and was first awarded in 2000. Since 2007, the Lannan Center and the GU English Department have partnered to sponsor a residency at Georgetown for the winner. During their time here, the Caine Prize winner holds office hours, visits classes, and gives readings to the public. You can learn more about the Caine Prize at its website caineprize.com.