Lidudumalingani
Posted in Past Guests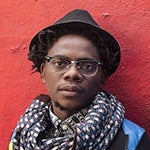 Born in Zikhovane, in the Eastern Cape, South Africa; Lidudumalingani is a writer, photographer and filmmaker. He is the winner of the Caine Prize 2016 for his short story "Memories We Lost." He is currently at work on two films, a documentary and an indie feature film. He is working on a novel, tentatively titled Let Your Children Name Themselves.
---
From Memories We Lost
There was never a forewarning that this thing was coming. It came out of nowhere, as ghosts do, and it would disappear as it had come.
Every time it left, I stretched my arms out in all directions, mumbled two short prayers, one to God and another to the ancestors, and then waited on my terrified sister to embrace me. The embraces, I remember, were always tight and long, as if she hoped the moment would last forever. Every time this thing took her, she returned altered, unrecognisable, as if two people were trapped inside her, both fighting to get out, but not before tearing each other into pieces. The first thing that this thing took from her, from us, was speech, and then it took our memories. She began speaking in a language that was unfamiliar, her words trembling as if trying to relay unthinkable revelations from the gods. The memories faded one after the other until our past was a blur.
Some of the memories that have remained with me are of her screaming and running away from home. I remember when she ran out to the fields in the middle of the night, screaming, first waking my mother and me and then abducting the entire village from their sleep.
–
Continue reading "Memories We Lost" on the Caine Prize's website.
---
Links
---
Media
Seminar | April 18, 2017
Reading | April 18, 2017