Colm Tóibín
Posted in 2016-2017 Readings and Talks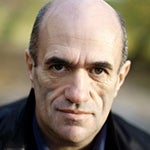 November 9, 2016
Lecture 6:30 PM in Copley Formal Lounge
Tóibín will present this year's George P. Lacay Endowed Lecture in conjunction with Lannan Readings and Talks to mark the centennial of the 1916 Easter Rising.
---
From Nora Webster
— Colm Tóibín
After much argument, she had finally been granted a second pension, and both pensions had been increased in the previous year's budget. She had not been aware at first that the extra money had been backdated by six months and she was surprised to get cheques in the post for what she thought were large sums of money. When she mentioned this to Jim and Margaret, Jim responded by saying that Charlie Haughey had been a hard-working minister for justice though a terrible minister for agriculture, but, if he could keep his head, he would go down in the books as a great minister for finance.
She remembered years before being in the hallway of Dr Ryan's house in Delgany with Maurice. It was an engagement party for Dr Ryan's daughter. Dr Ryan was minister for finance then. She was surprised by the opulence of the house itself, and the fact that waiters and caterers had been hired. All of the guests, except those who had come from Wexford, wore evening clothes. Dr Ryan exuded a sort of nobility and she was surprised at how Maurice and Shay Doyle, who had also come from Enniscorthy with them, seemed cowed and nervous in his presence. As they stood by the minister in all his considered grace in the hallway they became less than themselves. She was surprised too at the ease with which the minister dismissed Haughey, saying he was a young pup in too big a hurry, with no roots in Fianna Fáil.
"He joined us because we were in power," she remembered Dr Ryan saying, "and that is all he wants, power."
Continue reading Nora Webster at The Irish Times.
---
Listen to the Seminar
Watch the Lecture