Claudia Rankine
Posted in 2015-2016 Readings and Talks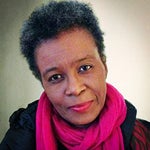 April 12, 2016
Seminar 5:30 PM | Copley Formal Lounge
Reading 8:00 PM | Gaston Hall
---
From "The Condition of Black Life Is One of Mourning"
— Claudia Rankine
A friend recently told me that when she gave birth to her son, before naming him, before even nursing him, her first thought was, I have to get him out of this country. We both laughed. Perhaps our black humor had to do with understanding that getting out was neither an option nor the real desire. This is it, our life. Here we work, hold citizenship, pensions, health insurance, family, friends and on and on. She couldn't, she didn't leave. Years after his birth, whenever her son steps out of their home, her status as the mother of a living human being remains as precarious as ever. Added to the natural fears of every parent facing the randomness of life is this other knowledge of the ways in which institutional racism works in our country. Ours was the laughter of vulnerability, fear, recognition and an absurd stuckness.
I asked another friend what it's like being the mother of a black son. "The condition of black life is one of mourning," she said bluntly. For her, mourning lived in real time inside her and her son's reality: At any moment she might lose her reason for living. Though the white liberal imagination likes to feel temporarily bad about black suffering, there really is no mode of empathy that can replicate the daily strain of knowing that as a black person you can be killed for simply being black: no hands in your pockets, no playing music, no sudden movements, no driving your car, no walking at night, no walking in the day, no turning onto this street, no entering this building, no standing your ground, no standing here, no standing there, no talking back, no playing with toy guns, no living while black.
Continue reading "The Condition of Black Life Is One of Mourning" at The New York Times.
—
Read more about Claudia Rankine
---
Watch the Seminar
Watch the Reading