Cathy Park Hong and Montana Ray
Posted in 2015-2016 Readings and Talks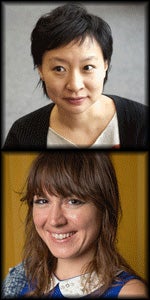 October 6, 2015
Seminar 5:30 PM | Lannan Center (New North 408)
Reading 8:00 PM | Copley Formal Lounge
---
The Vanishing
— Cathy Park Hong
I want to write like a man, probing
my glitchy mind like it's the rarest orchid.
But I'm cowed,
impoverished from cursing out,
swallowed in datamine's bowels, inter-
changeable as lint;
Ruddy Mongol: rant you can't
wrest it off, Wall-Face, since
the angry Asian is as threatening as an angry
Pygmy.
So becalm yourself, salaam into this seat,
and let's give head to legend's balding heads!
Can't hear you, literati's backbencher,
heir to nothing
in particular, you moot?
Pounding head, then baby's breath of lights.
Liqueur of cold tears with a coin of crème.
Grind, sip, grind, slug, grind:
I'm done.
—
Read more about Cathy Park Hong
---
From The Blessing
— Montana Ray
It was practical to share a ride home with Saad; we lived close enough, and Saad didn't have enough money to get himself even halfway back. His silence made me nervous, and I pressed myself against the other side of the backseat and looked out the window. In this district, no electricity on Wednesdays, we were surrounded by blackness; an occasional cloud of red dust billowed in the headlights. The back of a woman appeared, patterned fruit in bold colors and a basin of corn on her head. I craned my neck to examine her fingerprint face before she receded again into darkness.
"My Maria," Saad sighed and pinched my cheek. Smiling, I turned to him, even though Maria was his mother's name, and Marie was mine, and vowels were important to me. The special hire sputtered uphill, but with Saad next to me the jerking seemed funny and safe. Had David left me with him at Rip's studio as some kind of test?
---
Listen to the Seminar
Watch the Reading