Aminatta Forna
Posted in 2015-2016 Readings and Talks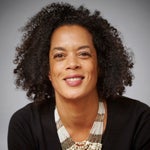 October 27, 2015
Seminar 5:30 PM | Lannan Center (New North 408)
Reading 8:00 PM | Copley Formal Lounge
---
From The Memory of Love
—Aminatta Forna
On the iron-framed bed a single, scant sheet has moulded itself into the form of the human beneath. On top of the bedside cabinet, a small pile of spiral-bound notebooks sits alongside a vase of flowers, bright-coloured and plastic. The notebooks are worn from handling, the leaves rippled with damp. In the atmosphere of the room the memories of a man float and form. The man in the bed is telling a story. His name is Elias Cole.
Adrian listens. He is new here.
Elias Cole says:
*
I heard a song, a morning as I walked to college. It came to me across the radio playing on a stall I passed. A song from far away, about a lost love. At least so I imagined, I didn't understand the words, only the melody. But in the low notes I could hear the loss this man had suffered. And in the high notes I understood too that it was a song about something that could never be. I had not wept in years. But I did, there and then, on the side of a dusty street, surrounded by strangers. The melody stayed with me for years.
This is how it is when you glimpse a woman for the first time, a woman you know you could love. People are wrong when they talk of love at first sight. It is neither love nor lust. No. As she walks away from you, what you feel is loss. A premonition of loss.
—
Continue reading at Grove Atlantic
Read more about Aminatta Forna
---
Watch the Reading