Okwiri Oduor
Posted in 2014-2015 Readings and Talks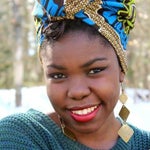 February 10, 2015
Seminar 5:30 PM | Lannan Center (New North 408)
Reading 8:00 PM | Riggs Library (Healy Hall, 3rd Floor)
---
From The Dream Chasers
Mama was like the mothers illustrated in the Hadithi Njoo children's storybooks; they always wore a simple gingham dress that erased all the curves from the body and drew straight lines in their place. When I was younger, I had wondered what would happen if she wore something attractive. Would Baba have loved her more or would she have been so startlingly different that I wouldn't have recognized her?
Mama's voice interrupted the dribbling of the laundry water, the clucking of the mother hen, and the swoosh of rice falling from the tray to the basin.
"Chinika," she said, her eyes trailing over the veranda, over the little silver spears at the top of the perimeter fence, over the pine tips to the twirling cappuccino clouds in the sky.
"Mama," I replied, and touched her hand, the hand dusted with rice powder. She pulled her hand away, upsetting the tray. Rice scampered across the floor, across the ridges of our toes, and across her flip-flops. Mounds of stone and rice debris fell into the basic of clean sorted rice. "Mama?"
—
Read more about Okwiri Oduor
---
Listen to the Seminar
Watch the Reading