Okwiri Oduor
Posted in Past Guests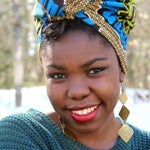 Okwiri Oduor was born in Nairobi, Kenya. Her novella The Dream Chasers was highly commended in the Commonwealth Book Prize 2012. Her work has appeared, or is forthcoming, in The New Inquiry, Kwani?, Saraba, FEMRITE, and African Writing Online. She recently directed the inaugural Writivism Festival in Kampala, Uganda. She teaches creative writing to young girls at her alma mater in Nairobi, and is currently working on her first full-length novel.
From My Father's Head
I had meant to summon my father only long enough to see what his head looked like, but now he was here and I did not know how to send him back.
It all started the Thursday that Father Ignatius came from Immaculate Conception in Kitgum. The old women wore their Sunday frocks, and the old men plucked garlands of bougainvillea from the fence and stuck them in their breast pockets. One old man would not leave the dormitory because he could not find his shikwarusi, and when I coaxed and badgered, he patted his hair and said, "My God, do you want the priest from Uganda to think that I look like this every day?"
I arranged chairs beneath the avocado tree in the front yard, and the old people sat down and practiced their smiles. A few people who did not live at the home came too, like the woman who hawked candy in the Stagecoach bus to Mathari North, and the man whose one-roomed house was a kindergarten in the daytime and a brothel in the evening, and the woman whose illicit brew had blinded five people in January.
–
Continue reading "My Father's Head" at Africanah
Links
Media
Seminar | February 10, 2015
Reading | February 10, 2015