Charlie Bondhus
Posted in 2013-2014 Readings and Talks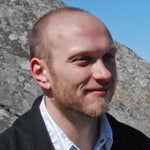 January 28, 2014
Seminar 5:30 PM | Lannan Center (New North 408)
Reading 8:00 PM | Copley Formal Lounge
Homecoming
Earlier you had written me
about the roadside bomb's
oranges, blues, and pinks,
which threw 200-lb men,
wearing 80 lbs of equipment,
into the hot, metal wall
of an Abrams tank.
When you came home in May,
I had a planter
of spiky bougainvillea on the porch;
the first thing you'd see,
a different kind of explosion.
We went to the bedroom
to tend to your body, starved
from fifteen months of hard living.
I smelled chemicals, felt shrapnel's grit,
saw your burns.
You told me about the sliver
of metal lodged in your right calf,
bone deep, inextractable, that would not
affect your ability to walk or sit
but would always be there, much in the same
way there will always be war
someplace, impinging on our lives.
Lying naked beneath the whup, whup
of the ceiling fan as you smoke
on the porch, I think about flowers and bombs,
the books I read on combat fatigue,
and wonder if this thorn in your leg
is attached to a stem that runs
the length of your spine,
exploding, in your head,
a white phosphorous bloom.
—
From All the Heat We Could Carry (Main Street Rag, 2013)
Read more about Charlie Bondhus
---
Listen to the Seminar
Watch the Reading