Tracy K. Smith and Bruce Smith
Posted in 2012-2013 Readings and Talks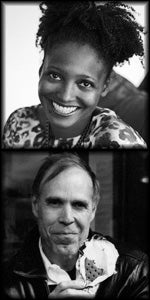 October 2, 2012
Seminar 5:30 PM | Lannan Center (New North 408)
Reading 8:00 PM | Copley Formal Lounge
---
I Don't Miss It
— Tracy K. Smith
But sometimes I forget where I am,
Imagine myself inside that life again.
Recalcitrant mornings. Sun perhaps,
Or more likely colorless light
Filtering its way through shapeless cloud.
And when I begin to believe I haven't left,
The rest comes back. Our couch. My smoke
Climbing the walls while the hours fall.
Straining against the noise of traffic, music,
Anything alive, to catch your key in the door.
And that scamper of feeling in my chest,
As if the day, the night, wherever it is
I am by then, has been only a whir
Of something other than waiting.
We hear so much about what love feels like.
Right now, today, with the rain outside,
And leaves that want as much as I do to believe
In May, in seasons that come when called,
It's impossible not to want
To walk into the next room and let you
Run your hands down the sides of my legs,
Knowing perfectly well what they know.
—
From Duende (Graywolf Press, 2007)
Read more about Tracy K. Smith
---
Immortality Ode
— Bruce Smith
Miss Bliss, once I thought I was endless
since father was perpetual in his grade school
of seedlings in cups, the overly loved pets, and recess
while mother was the lipsticked dancing girl
on the Steel Pier who would outstep Hitler.
I was insufferable when I rolled
the Volkswagen bus two times and lived
with the snow chains like costumed jewels
slung over me and the spare rolled
away as in a folktale.
The pact I made in the spinning instant
said in my language of American
boy, Put up or shut up, to God,
the State Trooper who was kind
and spoke of service and punishment
and giving yourself away.
Now, I'm alive through the agency
of iron and contract work and appeals
to the fallen—angel and dusk—
but wet-winged and still without you,
Miss Bliss, who took me inside
where there was an ocean
before which we were children.
That calm, that fear,
that witness of the two-thirds
of everything else.
—
From The Other Lover (he University of Chicago Press, 2000)
Read more about Bruce Smith
---
Listen to the Seminar
Watch the Reading