Tracy K. Smith
Posted in Past Guests | Tagged N-S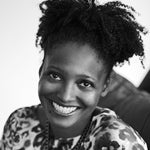 Tracy K. Smith, born and raised in Falmouth, Massachusetts, is the author of three award-winning poetry titles: The Body's Question (2003), winner of the Cave Canem Prize, Duende (2007), winner of the James Laughlin Award, and most recently Life on Mars (2011), winner of the Pulitzer Prize in poetry. The New York Times describes Smith as a poet who reveals "unknowable terrains," while Publisher's Weekly calls attention to her "lyric brilliance and political impulses." Smith's awards and honors include a Wallace Stegner Fellowship at Stanford University, a 2004 Rona Jaffe Writers Award, a 2008 Essence Literary Award, a grant from the Ludwig Vogelstein Foundation, a fellowship from the Bread Loaf Writers' Conference, and a 2005 Whiting Award. She teaches at Princeton University and lives in Brooklyn, New York.
---
The Good Life
When some people talk about money
They speak as if it were a mysterious lover
Who went out to buy milk and never
Came back, and it makes me nostalgic
For the years I lived on coffee and bread,
Hungry all the time, walking to work on payday
Like a woman journeying for water
From a village without a well, then living
One or two nights like everyone else
On roast chicken and red wine.
–
From Life on Mars (Graywolf Press, 2011)
---
Links
---
Media
Seminar with Bruce Smith | October 2, 2012
Reading with Bruce Smith | October 2, 2012