Dinaw Mengestu
Posted in 2012-2013 Readings and Talks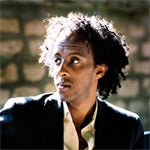 September 25, 2012
Seminar 5:30 PM | Lannan Center (New North 408)
Reading 8:00 PM | Copley Formal Lounge
Dinaw Mengestu joins Lannan Center as the newly appointed Lannan Chair in Poetics. He will be sharing from his recent works, The Beautiful Things That Heaven Bears and How to Read the Air.
---
from How to Read the Air
— Dinaw Mengestu
It was four hundred eighty-four miles from my parents' home in Peoria, Illinois, to Nashville, Tennessee, a distance that in a seven-year-old red Monte Carlo driving at roughly sixty miles an hour could be crossed in eight to twelve hours, depending on certain variables such as the number of road signs offering side excursions to historical landmarks, and how often my mother, Mariam, would have to go to the bathroom. They called the trip a vacation, but only because neither of them was comfortable with the word "honeymoon," which in its marrying of two completely separate words, each of which they understood on its own, seemed to imply when joined together a lavishness that neither was prepared to accept. They were not newlyweds, but their three years apart had made them strangers. They spoke to each other in whispers, half in Amharic, half in English, as if any one word uttered too loudly could reveal to both of them that, in fact, they had never understood each other; they had never really known who the other person was at all.
Learning a new language was, in the end, not so different from learning to fall in love with your husband again, Mariam thought. While standing in front of the bathroom mirror early in the morning, she often told herself, in what she thought of as nearly flawless diction, "Men can be strange. Wives are different." It was an expression she had heard from one of the women at the Baptist church that she and her husband had begun attending. A group of women were standing in the parking lot after the sermon was over, and one of them had turned to Mariam and said, "Men can be so strange. Wives are just different."
At the time she had simply repeated the words back, almost verbatim, "Yes. That is true. Men can be strange," because that was the only way that she could be certain that what she said was understood by everyone. What she would have liked to say was far more complicated and involved a list of sizable differences that by any other standards would have been considered irreconcilable. Regardless, since arriving in America six months earlier, she had pushed herself to learn new things about her husband, like why, for example, he spoke to himself when no one seemed to be looking, and why some days, after coming home from work, he would sit parked in the driveway for an extra ten or twenty minutes while she watched him from behind the living room curtains…
–
Continue reading at NPR
Read more about Dinaw Mengestu
---
Listen to the Seminar
Watch the Reading