Ben Lerner
Posted in 2012-2013 Readings and Talks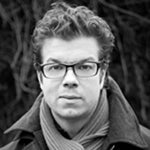 February 26, 2013
Seminar 5:30 PM | Lannan Center (New North 408)
Reading 8:00 PM | Copley Formal Lounge
---
From Leaving the Atocha Station
I introduced Teresa to María José and vice versa, and Teresa let fly a barrage of compliments about my writing and said something about how wonderful it was that the foundation had brought me to Madrid. While I couldn't understand much of what she was saying, it was clear it was eloquent, that Teresa spoke not as a friend but as a self-appointed representative of Spanish Art, and that María José was impressed, if a little put off. To me María José said she had enjoyed the reading very much, she looked forward to talking with me about how my new poems related to my research about the Spanish Civil War, perhaps at one of the upcoming events where fellows would be presenting their work, and I blinked a few times and said claro. Then one of the fellows introduced herself and said she too was a poet, basically yelled it, and that she would love to have coffee sometime and talk Spanish poetry. I blinked at her as well, but, before I could say claro, Arturo was pulling me away from the group to introduce me to Tomás, who had the air of a man badly misunderstood.
We shook hands and I said I liked your reading and he thanked me but didn't say anything back, I guess because he didn't like my poetry and because Tomás couldn't lie for the sake of politeness when it came to the most sacrosanct of arts. I was surprised how furious I became and how fast, but I didn't say anything; I just smiled slightly in a way intended to communicate that my own compliment had been mere graciousness and that I in fact believed his writing constituted a new low for his or any language, his or any art.
When I felt my face had made its point, I left him without saying excuse me, walked out of the gallery, and stood a few feet apart from the other smokers and lit my own cigarette, impervious to the cold. I sensed that the other smokers were whispering about me in respectfully hushed tones, and while I knew this was less because of any particular response they'd had to my reading than because I had been presented to them as a significant foreign writer, it nevertheless felt good. Eventually one of the group approached me and introduced himself as Abel. We shook hands and he said he enjoyed the reading, then explained that his photographs were hanging in the gallery and I said, although I hadn't really seen them, that they were excellent. Perhaps because I paid him this compliment as if my knowledge of photography were considerable, he seemed eager to demonstrate some understanding of poetry, and he began to compare my writing with a Spanish writer I didn't know. As he grew increasingly animated another smoker joined us, and after listening for a while he began to disagree with Abel, lightly at first, then with increasing intensity. The more heated the exchange, the more rapid the speech, and the less I understood; in the afterglow of what increasingly felt like my triumphant reading, however, I had the confidence to conduct or project a translation of pure will, and I came to believe I could follow the back and forth, which had the arc and feel of debates I'd heard before.
---
Listen to the Seminar
Watch the Reading