William Archila and Ruth Irupé Sanabria
Posted in 2011–2012 Readings and Talks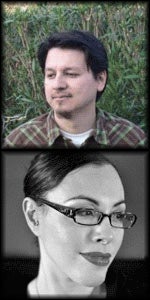 March 20, 2012
Seminar 5:30 PM | Lannan Center (New North 408)
Reading 8:00 PM | Copley Formal Lounge
This reading is part of a larger initiative, "Latino/a Poetry Now," which is a joint gesture between Letras Latinas, the Poetry Society of America, and the Library of Congress' Hispanic Division and Poetry and Literature Center.
Read an interview between Archila and Sanabria, moderated by Notre Dame M.F.A. candidate Lauro Vazquez.
---
Two o'clock in the morning
— William Archila
They groan about Christ, his foot slapped
on their skulls, his memory clear
like their dead lost in the pake grass,
their graves are many and unmarked.
They stay for days, too many weeks,
eating beans and fried chicken necks,
drinking frosted beers topped with foam.
They come from countries far and small.
They learn to mop from sun to sun,
breed fowl and nurse the boss' child,
remember the green coast back home,
something sharp rusting on their tongues.
They knock with busted knuckles, step
inside with tattered coats, shoes torn,
come from graves far and small,
unmarked. They wait for the bus stop.
—
From Poem-Full
Read more about William Archila
---
Geometry
–Ruth Irupé Sanabria
Before my mother runs away
with my father's housemate
on a Greyhound,
leaving me behind,
this time voluntaily
but to her credit, temporarily,
she will host parties
where wine will agree
to forever follow solitude
in this and that one's vessel,
where blue bellbottoms will
hustle and for old times, twist,
and I will ignore the dancers
and stand on a chair
before a night-fevered window,
drawing slow unstable circles.
—
Read more about Ruth Irupé Sanabria
---
Listen to the Seminar
Watch the Reading