Victoria Adukwei Bulley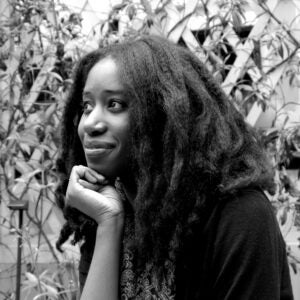 Victoria Adukwei Bulley is a poet, writer and artist. Her debut poetry collection Quiet was published by Faber in 2022 and was the winner of the Rathbones Folio Prize 2023 in the Poetry category. Quiet was also shortlisted for the T.S. Elliot Prize and the Pollard Poetry Prize. Winner of a 2018 Eric Gregory Award for promising British poets under 30, she has held artist residencies in the USA, Brazil, and the V&A Museum in London. Her work has appeared in The Chicago Review, the London Review of Books, and The Poetry Review, in addition to featuring on BBC Radio 4 Woman's Hour. In 2016, she was shortlisted for the Brunel Prize for African Poetry, and her debut chapbook, Girl B, forms part of the 2017 New-Generation African Poets series, curated by Kwame Dawes and Chris Abani. Victoria is the creator of MOTHER TONGUES, a poetry, translation and film project exploring the indigenous language heritages of black poets. She is a doctoral student at Royal Holloway, University of London, where she is the recipient of Technē scholarship for practice-based research in Creative Writing.
---
Air
–Victoria Adukwei Bulley
Friend, I saw you sitting
at the window of yourself
high up in the loft
watching it all go on without you.
I was ice & you were almost shadow.
I waved like a child on a passing boat.
Unsure of whether or not this counts
I want us to remember the unreadable air.
How it waits to be recast
by the touch of our lungs –
our breath alone,
a most humble poem:
in, out, the couplet we write
without thinking. Don't go.
We must stay alive
to our place in the family
of green & breathing things
that use even our sighs
to make sweetness from light.
What grace. Allow what is simple
to be simple. Accept it as
truth. Quiet as it's kept
we help the trees to breathe too.
Links