Salman Rushdie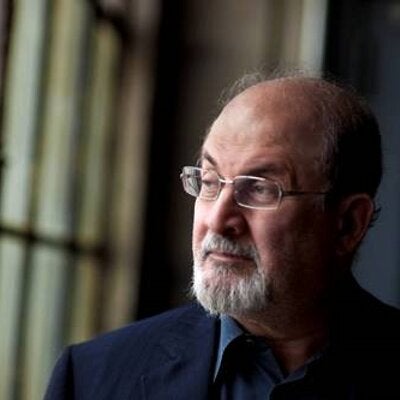 Salman Rushdie is the author of fourteen novels, most recently Quichotte, The Golden House, and Two Years Eight Months and Twenty-Eight Nights. His book Midnight's Children was awarded the Booker Prize in 1981 and the Best of the Booker in 2008. His books have been translated into over forty languages. A Fellow of the British Royal Society of Literature, Rushdie has received, among other honors, the Whitbread Prize for Best Novel (twice), the Writers' Guild Award, the European Union's Aristeion Prize for Literature, and a U.S. National Arts Award. In 2008, he became a member of the American Academy of Arts and Letters and was named a Library Lion of the New York Public Library. He holds honorary doctorates and fellowships at six European and six American universities, is an Honorary Professor in the Humanities at M.I.T, and University Distinguished Professor at Emory University. Currently, Rushdie is a Distinguished Writer in Residence at New York University.
---
From Quichotte
As a consequence of his near-total preoccupation with the material offered up to him through, in the old days, the cathode-ray tube, and, in the new age of flat screens, through liquid crystal, plasma, and organic light-emitting diode displays, he fell victim to that increasingly prevalent psychological disorder in which the boundary between truth and lies became smudged and indistinct, so that at times he found himself incapable of distinguishing one from the other, reality from "reality," and began to think of himself as a natural citizen (and potential inhabitant) of that imaginary world beyond the screen to which he was so devoted, and which, he believed, provided him, and therefore everyone, with the moral, social, and practical guidelines by which all men and women should live. As time passed and he sank ever deeper into the quicksand of what might be termed the unreal real, he felt himself becoming emotionally involved with many of the inhabitants of that other, brighter world, membership in which he thought of as his to claim by right, like a latter-day Dorothy contemplating a permanent move to Oz; and at an unknown point he developed an unwholesome, because entirely one-sided, passion for a certain television personality, the beautiful, witty, and adored Miss Salma R, an infatuation which he characterized, quite inaccurately, as love. In the name of this so- called love he resolved zealously to pursue his "beloved" right through the television screen into whatever exalted high-definition reality she and her kind inhabited, and, by deeds as well as grace, to win her heart.
Continue reading Quichotte at Literary Hub.
---
Links
---
Media
Salman Rushdie | 2021 Lannan Symposium | THIS LAND