Rotimi Babatunde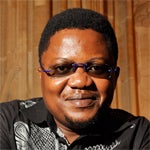 Rotimi Babatunde's fiction and poems have been published in Africa, Europe and America in journals which include Die Aussenseite des Elementes and Fiction on the Web and in anthologies including Little Drops and A Volcano of Voices. He is a winner of the Meridian Tragic Love Story Competition organised by the BBC World Service and his plays have been staged and presented by institutions which include the Halcyon Theatre, Chicago and the Institute for Contemporary Arts. He is currently taking part in a collaboratively produced piece at the Royal Court and the Young Vic as part of World Stages for a World City. Rotimi lives in Ibadan, Nigeria.
From "Bombay's Republic"
Bombay's discoveries of the possible would come faster than the leeches in Burma's crepuscular jungles. At first, Bombay's tasks were limited to mule driving and porting baggage. If there are people trying to kill me, it would be stupid of me not to be in a position to kill them also, he repeatedly grumbled to his superiors. To shut him up, he was posted to a combat unit.
The campaign to recapture Buthidaung was in progress. Bombay's unit was deployed to a swampy pass of the Kaladan Valley where they got isolated from the main army for weeks. Their situation got dire and it seemed they would have to feed on wild bananas lined with pawpaw-like seeds but tasting like detergent. Then Bombay's squad ran into enemy ambush. They had no option but to dive for cover as hostile gunfire reduced the vegetation above their heads to shreds. Their ammunitions had already gone too low to mount a credible resistance but Bombay thought it wiser to go down fighting and his squad agreed. They charged shrieking at the machinegun position with pangas raised, their common howling and bawling coming as if from a primeval horde of lunatics hell-bent on murder. The firing stopped. Perhaps a freakish mistake damaged the enemy's equipment mid-operation, anyone would have assumed. When the manic charge Bombay led reached its destination, the enemy was gone. The squad met three machineguns and several abandoned magazines, the operators of the weapons long melted into the greenery like frost crystals blown into the jungle's humid oven…
–
Continue reading "Bombay's Republic."
Links
Media
Reading | February 12, 2013