Yusef Komunyakaa
Posted in Past Guests | Tagged G-M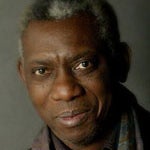 Yusef Komunyakaa was born in Louisiana and grew up during the Civil Rights Movement. He was awarded a Bronze Star for his service as a United States Army correspondent. He received the Pulitzer Prize for Neon Vernacular (1993). He has published eleven books of poetry, a prose collection, Blue Notes, a dramatic work, Gilgamesh: A Verse Play, and Slip Knot, a libretto. He is a Chancellor of the Academy of American Poets and Distinguished Senior Poet at New York University's creative writing program.
---
Sloth
If you're one of seven
Downfalls, up in your kingdom
Of mulberry leaves, there are men
Betting you aren't worth a bullet,
That your skin won't tan into a good
Wallet. As if drugged in the womb
& limboed in a honeyed languor,
By the time you open your eyes
A thousand species have lived
& died. Born on a Sunday
Morning, with old-world algae
In your long hair, a goodness
Disguised your two-toed claws
Bright as flensing knives. In this
Upside-down haven, you're reincarnated
As a fallen angel trying to go home.
---
Links
Interview with Dana Isokawa. Washington Square Review. Spring 2014.
Facing It. Poetry Everywhere. PBS. 2011.
---
Media
Reading | March 14, 2007
CRY HAVOC! Poetry of War and Remembrance 1968-2008 | March 31, 2009
SYMPOSIUM III: War and Remembrance: Surviving with Language and Memory
CRY HAVOC! Poetry of War and Remembrance 1968-2008 | March 31, 2009
Reading: War and Remembrance: Poetry of War and Memory, 1968- 2008