Will Alexander
Posted in Past Guests | Tagged A–F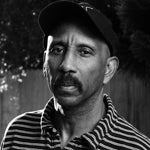 Will Alexander is a poet and visual artist. Working from Los Angeles, he has updated the alchemy of surrealist vision (found in such poets as Aimé Césaire and Raymond Roussel) to write his own cosmic parables, in his own electric incandescent language. Prolific in poetry, fiction & criticism, Alexander crafts his book titles like small poems. The field of his explorations include: Vertical Rainbow Climber, Arcane Lavender Morals, Asia & Haiti, Towards the Primeval Lightning Field, only some of the more than 20 books to his oeuvre.
---
From On Anti-Biography
For me, biography is a lantern, burning in the midst of parenthetical opaqueness. In a sense, it is a ruse, a phantasmic meandering, brighter or dimmer, according to the ecletic happenstance of terror.
Me, I've been sired in anomaly, in an imagery of brewing grenadine riddles, a parallel poesis spawned from curious seismographic molten. I say curious, because the original stalking arc has disappeared into the wilderness of an a priori blizzard, which gives birth to a level, like a portal of fire conjoined with the lightning field of mystery. I call it the poetic guardian dove, the hieratic alien wing.
—
Continue reading "On Anti-Biography" on The Poetry Foundation's website.
---
Links
---
Media
Reading with Michael Palmer | March 20, 2003
Vanguards in American Letters