Tomaž Šalamun
Posted in Past Guests | Tagged N-S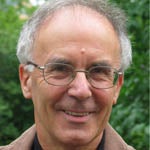 Slovenia's greatest living poet and one of the foremost figures of the European avant-garde, Šalamun is the author of thirty-seven books of poetry, with works translated into nineteen languages. "Šalamun has become an influence, and a mentor, for plenty of young American poets. One reason lies in Šalamun's postmodern mix of giddy and global with the earthy retrospect he takes from his homeland … [He] makes his new collection a whirlwind tour of sites and moods … " (Publisher's Weekly). His most recent translations into English include Woods and Chalices (Harcourt, 2008) and The Book for My Brother (Mariner Books, 2006).
---
Faith
Precious copper mouth.
I hide, hide my head in you.
I have only one white sense.
The rib from which Adam was made.
Cliffs, how they are spouting.
Azure, how it burns you.
Yours, sleepy and starving.
I am hugging you.
---
Links
---
Media
Seminar | October 5, 2010
Reading | October 5, 2010