Tarfia Faizullah
Posted in Past Guests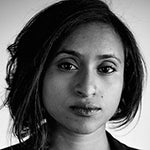 Poet, editor, and educator Tarfia Faizullah received an MFA in poetry from Virginia Commonwealth University and is the author of Seam (Southern Illinois University Press, 2014) as well as Register of Eliminated Villages, forthcoming from Graywolf in 2018. Seam is the recipient of the 2015 Great Lake College Association New Writers Awards, the 2015 VIDA Award in Poetry, and the 2015 Binghamton University Milton Kessler Poetry Book Award. Faizullah's honors include a Pushcart Prize, a Fulbright Fellowship, a Ploughshares Cohen Award, a Dorothy Sargent Rosenberg Prize, as well as scholarships and fellowships from Kundiman, Kenyon Review, and Sewanee, and Vermont Studio Center. Her poems appear in Poetry Magazine, Oxford American, Ploughshares, New England Review, and elsewhere. Poems have also been anthologized in Best New Poets 2013 and Hard Lines: Rough South Poetry, among others.
Faizullah is the Nicholas Delbanco Visiting Professor of Poetry in the Helen Zell Writers' Program at the University of Michigan. She co-directs the Organic Weapon Arts Chapbook Press and Video Series with Jamaal May, and lives in Detroit, MI.
---
100 B
ells
With thanks to Vievee Francis
My sister died. He raped me. They beat me. I fell
to the floor. I didn't. I knew children,
their smallness. Her corpse. My fingernails.
The softness of my belly, how it could
double over. It was puckered, like children,
ugly when they cry. My sister died
and was revived. Her brain burst
into blood. Father was driving. He fell
asleep. They beat me. I didn't flinch. I did.
It was the only dance I knew.
It was the kathak. My ankles sang
with 100 bells. The stranger
raped me on the fitted sheet.
I didn't scream. I did not know
better. I knew better. I did not
live. My father said, I will go to jail
tonight because I will kill you. I said,
She died. It was the kathakali. Only men
were allowed to dance it. I threw
a chair at my mother. I ran from her.
The kitchen. The flyswatter was
a whip. The flyswatter was a flyswatter.
I was thrown into a fire ant bed. I wanted to be
a man. It was summer in Texas and dry.
I burned. It was a snake dance.
He said, Now I've seen a Muslim girl
naked. I held him to my chest. I held her
because I didn't know it would be
the last time. I threw no
punches. I threw a glass box into a wall.
Somebody is always singing. Songs
were not allowed. Mother said,
Dance and the bells will sing with you.
I slithered. Glass beneath my feet. I
locked the door. I did not
die. I shaved my head. Until the horns
I knew were there were visible.
Until the doorknob went silent.
–
From Poetry (January 2015)
---
Links
---
Media
Seminar with Jamaal May | September 19, 2017
Reading with Jamaal May | September 19, 2017