Sharan Strange
Posted in Past Guests | Tagged N-S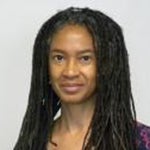 Sharan Strange grew up in Orangeburg, SC, and was educated at Harvard College. She received her MFA in poetry from Sarah Lawrence College. The author of Ash, which won the 2000 Barnard New Women Poets Prize, she is a contributing and advisory editor of Callaloo and cofounder of the Dark Room Collective. Strange has been a writer-in-residence at Fisk University, Spelman College, the University of California at Davis, and the California Institute of the Arts. She teaches at Spelman College.
---
Childhood
Summer brought fireflies in swarms.
They lit our evenings like dreams
we thought we couldn't have.
We caught them in jars, punched
holes, carried them around for days.
Luminous abdomens that when charged
with air turn bright. Imagine!
mere insects carrying such cargo,
magical caravans flickering beneath
low July skies. We chased them, amazed.
The idea! Those tiny bodies
pulsing phosphorescence.
They made reckless traffic,
signaling, neon flashes forever
into the deepening dusk.
They gave us new faith
in the nasty tonics of childhood–
pungent, murky liquids promising
shining eyes, strong teeth, glowing skin–
and we silently vowed to swallow ever after.
What was the secret of light?
We wanted their brilliance–
small fires hovering,
each tiny explosion
the birth of a new world.
---
Links
---
Media
Societies of American Poetry: Dissenting Practices | February 22, 2003
Social / Lyric