Seymour Hersh
Posted in Past Guests | Tagged G-M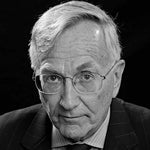 Seymour Hersh is a Pulitzer Prize-winning investigative journalist who broke the stories on the My Lai massacre and the Abu Ghraib prison scandal. A former journalist for The New York Times, he is a regular contributor to The New Yorker magazine. His eight books describe the secret culture of power in the United States. He has been awarded the George Polk Award, the Lennon-Ono Peace Prize, the National Book Critics Circle Award, and a Sidney Hillman award, among others.
---
from Lieutenant Accused of Murdering 109 Civilians
LL William L Calley Jr., 26 years old, is a mild-mannered, boyish-looking Vietnam combat veteran with the nickname "Rusty:' The Army is completing an investigation of charges that he deliberately murdered at least 109 Vietnamese civilians in a search-and- destroy mission in March 1968 in a Viet Gong stronghold known as "Pinkville."
Calley has formally been charged with six specifications of mass murder. Each specification cites a number of dead, adding up to the 109 total, and charges that Calley did "with premeditation murder… Oriental human beings, whose names and sex are unknown, by shooting them with a rifle."
The Army calls it murder; Calley, his counsel and others associated with the incident describe it as a case of carrying out orders.
"Pinkville" has become a widely known code word among the military in a case that many officers and some Congressmen believe "will become fat mote controversial than the recent murder charges against eight Green Berets. Army investigation teams spent nearly one year studying the incident before filing charges against Calley, a platoon leader of the Eleventh Brigade of the American Division at the time of the killings.
---
Links
---
Media
Cry HAVOC! Poetry of War and Remembrance 1968-2008 | Monday, March 30, 2009
SYMPOSIUM I: Cry Havoc! Resisting Power in a Half Century of War:
Seymour Hersh and Amy Goodman in conversation (With a Tribute to Father Daniel Berrigan, S.J)