Rowan Ricardo Phillips
Posted in Past Guests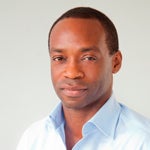 Born and raised in New York City, poet, literary and art critic, and translator Rowan Ricardo Phillips's work has appeared in The Paris Review, Granta, The New Yorker, and many other publications. Phillips earned his BA at Swarthmore College before receiving his PhD at Brown University. His The Ground: Poems won the 2013 Whiting Writers' Award as well as the PEN/Joyce Osterweil Award, and the 2013 Great Lakes Colleges Association New Writers Award for Poetry. In addition to translating Salvador Espriu's story collection Ariadne in the Grotesque Labyrinth, Phillips also penned the critical volume, When Blackness Rhymes with Blackness. He currently teaches and is Director of the Poetry Center at SUNY-Stony Brook.
---
Mappa Mundi
These factories, their pipes' smoke, plume like skunks,
Rise as one and few and many and all
And forty fireflies bound for JFK.
Forty more circle where here be dragons.
Nature is a lapse in city life.
Whether red birds sit and sing from rooftops
Or rappers cypher deep into the night,
The gun-in-your-mouth talk of a ransomed
God, nature is a lapse in city life.
The soft green ground that ends an avenue.
The red rust-spew stifling a drain.
Pigeon-dropped icicles. Nature is a lapse in city life.
Those kids on a New Deal rooftop
Staring at the wonders of Moses,
Who with a wave split the Bronx asunder
And dropped the Cross Bronx
Down in his wake,
May they know this map of the world
As only a map of the world.
One of many that will lead them
To and from their doors.
–
From The Ground (FSG 2012)
---
Links
---
Media
Seminar | September 30, 2014
Reading | September 30, 2014