Ron Silliman
Posted in Past Guests | Tagged N-S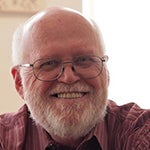 Born in Pasco, Washington, Ron Silliman has written and edited over 30 books, most recently Revelator, and had his poetry and criticism translated into 14 languages. Silliman was a 2012 Kelly Writers House Fellow at the University of Pennsylvania, and the 2010 recipient of the Levinson Prize, from the Poetry Foundation. His sculpture Poetry (Bury Neon) is permanently on display in the transit center of Bury, Lancashire. Silliman lives in Chester County, PA, and was writer in residence at the Gloucester Writers Center in 2015.
---
From Non
For Jackson Mac Low
Proto-mallie: the flaneur.
"The older I get the more
floors I discover
at Macys." Little red
thermos looks like
fire extinguisher. Ants won't cross
trail of
petroleum jelly. Hat
with no bill, cubist
leather beret.
Sore on my tongue, smell
of dung. Voice's choices
sight's relight. In gaol
they make you surrender
your panty hose
to prevent suicide.
The crowd of protesters
approach, chanting
"out of the boutiques
and into the streets."
Seagull brushes
up against my cap.
Rude Work Ahead.
Velcro strap,
reusable cast.
Dog's name
is Cutty.
Eco-Brutalism, Deep
Semiology. Sturgeon
General. Boot failure!
Odd trim
of the ear's rim.
The neck seen as a tube is
seen incorrectly.
Post-its peeking
from a three-ring binder.
Dog snarls
behind window of
locked Rabbit.
Morning's magic means
make my
daily bread. Ears
put head in
brackets. Hypervariables
in DNA show up
on screen like
Bar code
on a cereal box.
Rushed writing.
one is to words
always an outsider,
tho they invade your head,
colonize dreams.
Neither an Aram
nor Omar be.
—
Continue reading at Modern American Poetry.
---
Links
---
Media
Seminar with Leslie Scalapino | February 3, 2005
Reading with Leslie Scalapino | February 3, 2005