Robert Hass
Posted in Past Guests | Tagged G-M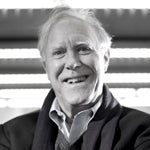 Two-time MacArthur Genius Fellow, poet Robert Hass is a professor of English at University of California, Berkeley. Hass has published six collections of poetry as well as several works of criticism. He has co-translated many of Czesław Miłosz's works with the author. During his residency as the US Poet Laureate from 1995-1997, Hass promoted ecological awareness, as well as literacy and poetry. He is recipient of the 2014 Wallace Stevens Award, the 2008 Pulitzer Prize for poetry, and the National Book Critics' Circle Award (1997, 1984).
---
Lines on Last Spring
For John and Ellen Peck
                  I
I have been thinking again
of your acacia grove. Spring
had made its small start
in the meadow mushroom
and the flowering plum. Fog
heaved inland from the sea,
grey as the distances I feared
once falling into, driving east.
Your creek ran with new rain.
                  II
A clean taste for bitter things
like unripe almonds or hard words:
I touched the cold surfaces of rock
and peeled the roughened bark
from pepper trees. The air was thick
with birds, linnets like wounds,
slow towhees, dumb, earth-colored birds,
harks overhead floating in the wind.
The eucalyptus leaves I crumbles
smelled pungent lemon in my hands.
                  III
We sucked at oranges we stole
from your alcoholic neighbors
who fermented in their bed
all day and watched tv.
Texas oil and California land
had married their tanned, torpid bodies
and produced one hand steady enough
to switch the channels by remote control.
Clouds scudded in their great bay window
on the hill. Their hounds bayed from the kennels
and hurled themselves agains the fence.
                  IV
We talked about the war,
examined tiers of pearl-
tinged fungi on a rotting pine
and, warily, without passion,
invented a small country
free from repression
just north of Mendocino on the coast.
---
Links
---
Media
In Nature's Wake: The Art and Politics of Environmental Crisis | March 24, 2015
Nature Poetry After Nature
In Nature's Wake: The Art and Politics of Environmental Crisis | March 25, 2015
What Is to Be Done?