Robert Creeley
Posted in Past Guests | Tagged A–F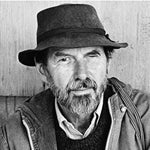 Creeley was born in Arlington, Massachusetts, in 1926. An accident when he was four left him blind in one eye. Creeley was admitted to Harvard in 1943, but left to serve in the American Field Service in 1944 and 1945, and drove an ambulance in India and South-East Asia. Creeley returned to Harvard after the war, though he never graduated. He later received an MA from the University of New Mexico.
Throughout the 1950s, Creeley was associated with the "Black Mountain Poets," a group of writers including Denise Levertov, Ed Dorn, Fielding Dawson, and others who had some connection with Black Mountain College, an experimental, communal college in North Carolina that was a haven for many innovative writers and artists of the period.
Creeley was a prolific poet, even late in life: the volumes after Life and Death came in regular succession, including Loops: Ten Poems (1995); Ligeia: A Libretto (1996); En Famille: A Poem by Robert Creeley (1999); Thinking (2000); and If I Were Writing This (2003). Creeley also wrote a considerable amount of prose and was editor of a number of volumes, including Best American Poetry 2002. Creeley's prose includes a novel, essays, and short stories, as well as a play, collected letters, and an autobiography, published in 1990. Creeley taught for over 30 years at the State University of New York-Buffalo. In 2003 he was appointed distinguished professor of English at Brown University. A recipient of the Lannan Foundation Lifetime Achievement Award, Creeley died in 2005.
---
Somewhere
The galloping collection of boards
are the house which I afforded
one evening to walk into
just as the night came down.
Dark inside, the candle
lit of its own free will, the attic
groaned then, the stairs
led me up into the air.
From outside, it must have seemed
a wonder that it was
the inside he as me saw
in the dark there.
---
Links
---
Media
Reading | November 10, 2000