Quique Avilés
Posted in Past Guests | Tagged A–F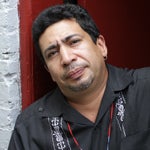 Quique Avilés is a DC poet, performer, and community activist whose work is dedicated to addressing social issues. For 30 years, Quique has been challenging audiences with his provocative, painful, humorous, poignant, and powerful work. Originally from El Salvador, Quique graduated from the Duke Ellington School of the Arts in 1985 and founded the LatiNegro Theater Collective, an ensemble of African American and Latino young artists. In 1999, he co-founded Sol & Soul, an arts and activist organization, and served as its Artistic Director until 2005. He has written and performed in 10 major one-man shows dealing with issues of race and identity, including Latihood, Chaos Standing, Caminata: A Walk though Immigrant America, and The Children of Latinia. His most recent work is Los Treinta, a one-man show that explores and celebrates to the 30-year presence of Salvadorans in the nation's capitol.
His poetry and commentary have been featured on NPR's Latino USA and This I Believe, on local radio (WAMU and WPFW), and published in local journals and several anthologies. In 2004, Quique published his first book of poetry, The Immigrant Museum, an artbook designed in collaboration with Raices de Papel and printed in Mexico City. He has performed at theaters and community centers in Washington DC, Los Angeles, Minneapolis, New York, San Francisco, and Santa Fe; at colleges and universities in over 10 states; and at theater festivals in Havana, Mexico City, and San Salvador.
Quique has also led community-based writing and performance projects in a wide variety of settings, including: after-school youth programs, community centers, residential treatment centers, schools and universities, prisons, and recreation centers. He is currently the lead facilitator for GALA Hispanic Theatre's youth program, Paso Nuevo.
---
My tongue is divided into two
My tongue is divided into two
by virtue, coincidence or heaven
words jumping out of my mouth
stepping on each other
enjoying being a voice for the message
expecting conclusions
My tongue is divided into two
into heavy accent bits of confusion
into miracles and accidents
saying things that hurt the heart
drowning in a language that lives, jumps, translates
My tongue is divided by nature
by our crazy desire to triumph and conquer
This tongue is cut up into equal pieces
one wants to curse and sing out loud
the other one simply wants to ask for water
My tongue is divided into two
one side likes to party
the other one takes refuge in praying
tongue
english of the funny sounds
tongue
funny sounds in english
tongue
sounds funny in english
tongue
in funny english sounds
My tongue sometimes acts like two
and it goes crazy
not knowing which side should be speaking
which side translating
My tongue is divided into two
a border patrol runs through the middle
frisking words
asking for proper identification
checking for pronunciation
My tongue is divided into two
My tongue is divided into two
I like my tongue
it says what feels right
I like my tongue
it says what feels right
---
Links
---
Media
Writing Dangerously in Immigrant America | April 6, 2011
Cold War/Drug War/Border War/Turf War: Salvador to Juárez to LA to DC,
Session II