Pierre Joris
Posted in Past Guests | Tagged G-M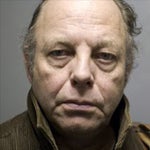 Poet, translator & essayist, Pierre Joris has published over 20 books & chapbooks of poetry, among them Poasis: Selected Poems 1986-1999. His essays include the 2003 volume A Nomad Poetics; he has published award winning translations of the work of Paul Celan, and, with Jerome Rothenberg, co-edited Poems of the Millennium.
---
From JANUS
Trust the calendars
the solar's paltry
static assurances,
the shiftier moves
of your lunar,
start afresh with a
fresh round, no matter
how illusory all
beginnings are,
time is
or the wound
crater on the second
joint of your left
index finger.
It throbs—I am
all around it, in
the red flesh, the welts
surround it, as nightmares
surround dreams, as time
does the calendar, my stepladder,
stepfather, towards
nowhere, no-time
soon enough. Scratch some-
thing into the interstices
notch your bone
break your nails
count the days.