Peter Balakian
Posted in Past Guests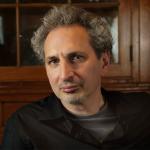 Peter Balakian, was born on June 13, 1951 in Teaneck, NJ.
He is the author of Ozone Journal (University of Chicago Press), winner of the 2016 Pulitzer Prize in Poetry. Balakian is also author of six earlier books of poems, most recently Ziggurat (2010) and June-tree: New and Selected Poems, 1974-2000 (HarperCollins, 2001). He is also the author of the memoir Black Dog of Fate (HarperCollins, 1997), which was featured in the New York Times and in the Los Angeles Times, and the prose work The Burning Tigris (HarperCollins, 2003) on the Armenian genocide, which was a New York Times bestseller. His essays on poetry, culture, art, and social thought have appeared in such publications as American Quarterly, Art in America, Boston Globe, Chronicle of Higher Education, Commentary, New York Times Magazine, New York Review of Books, and Poetry, many of which are collected in hisbook, Vise and Shadow (2015). Balakian is the Donald M. and Constance H. Rebar Professor of the Humanities at Colgate University, where he has taught since 1980 and where he directs the Center for Ethics and World Societies.
---
Here and Now
The day comes in strips of yellow glass over trees.
When I tell you that day is a poem
I'm only talking to you and only the sky is listening.
The sky is listening; the sky is as hopeful
as I am walking into the pomegranate seeds
of the wind that whips up the seawall
If you want the poem to take on everything,
walk into a hackberry tree,
then walk out beyond the seawall.
I'm not far from a room where Van Gogh
was a patient–his head on a pillow hearing
the mistral careen off the seawall,
hearing the fauvist leaves pelt
the sarcophagi. Here and now
the air of tepidarium kissed my jaw
and pigeons ghosting in the blue loved me
for a second, before the wind
broke branches and gutted into the river.
–
From Ozone Journal (The University of Chicago Press, 2015)
---
Links
---
Media
Seminar with Layli Long Soldier | October 17, 2017
Reading with Layli Long Soldier | October 17, 2017