Nalo Hopkinson
Posted in Past Guests | Tagged G-M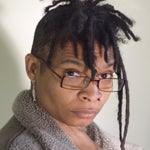 Nalo Hopkinson's science fiction and fantasy novels include Brown Girl in the Ring (1998), which received Locus Award for Best New Writer; Midnight Robber (2000), nominated for the Hugo Award for Best Novel; Skin Folk (2001), which won the World Fantasy Award and the Sunburst Award for Canadian Literature of the Fantastic; and The Salt Roads, which received the Gaylactic Spectrum Award. Also an editor of four fiction anthologies, Hopkinson lives in Canada, and teaches writing at various programs around the world.
---
From Brown Girl in the Ring
"Prince of Cemetery!" Mami hissed, her eyes wide. She kept her rhythm going, but even softer.
"You know so, old lady", Ti-Jeanne rumbled. She pranced on long legs over to Mami, bent down, down, down; ran a bony forefinger over the old woman's cheek. "Good and old, yes? Like you nearly ready to come to me soon, daughter!"
To Tony's surprise, Mami Gros-Jeanne spoke sternly, drumming all the while, to the spirit that was riding her granddaughter. "I ain't no daughter of yours. Stop the foolishness and tell me what you doing with Ti-Jeanne. You know she head ain't ready to hold no spirits yet."
Ti-Jeanne/Prince of Cemetery chuckled, a hollow sound like bones falling into a pit. He danced over to Eshu's stone head and used a long, long finger to scoop up some of the chicken blood thickening there. Slowly he licked and sucked it off his finger, smiling like a child scraping out the batter bowl. Tony's stomach roiled. "But doux-doux", Prince of Cemetery said, "Your granddaughter head full of spirits already; she ain't tell you? All kind of duppy and thing.
When she close she eyes, she does see death. She belong to me. She is my daughter. You should 'fraid of she."
---
Media
Reading with Eileen Myles | March 17, 2009