Charles Simic
Posted in Past Guests | Tagged N-S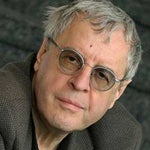 Charles Simic was born in Belgrade, Serbia (at the time part of Yugoslavia) in 1938. Simic immigrated with his family to the United States at the age of 16, where he grew up in Chicago and continued his education, eventually receiving his BA from New York University. Simic is the author of 35 poetry collections, most recently Master of Disguises (2010), as well as a translator, essayist, and philosopher. The Poetry Foundation describes Simic as "one of the most visceral and unique poets writing today."
In addition to teaching American literature and creative writing at the University of New Hampshire, Simic has held the role of co-Poetry Editor of the Paris Review and was appointed the fifteenth Poet Laureate of the United States in 2007. His awards include a MacArthur Fellowship (1984-1989), the Pulitzer Prize for Poetry (1990), the Wallace Stevens Award (2007), and, most recently, the Frost Medal (2011).
---
Eyes Fastened with Pins
How much death works,
No one knows what a long
Day he puts in. The little
Wife always alone
Ironing death's laundry.
The beautiful daughters
Setting death's supper table.
The neighbors playing
Pinochle in the backyard
Or just sitting on the steps
Drinking beer. Death,
Meanwhile, in a strange
Part of town looking for
Someone with a bad cough,
But the address is somehow wrong,
Even death can't figure it out
Among all the locked doors …
And the rain beginning to fall.
Long windy night ahead.
Death with not even a newspaper
To cover his head, not even
A dime to call the one pining away,
Undressing slowly, sleepily,
And stretching naked
On death's side of the bed.
–
From Charon's Cosmology (George Braziller, 1977)
---
Links
---
Media
Reading with Carolyn Kizer | April 11, 1990
Seminar | February 28, 2012
Reading | February 28, 2012