Myung Mi Kim
Posted in Past Guests | Tagged G-M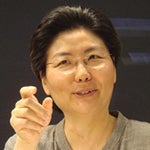 Born in Seoul, Korea, Myung Mi Kim and her family immigrated to the midwestern United States when Kim was only nine. She earned her BA from Oberlin College and her MA from Johns Hopkins. She also received an MFA from the University of Iowa. Her 1991 collection of poetry, Under Flag, has been reprinted twice and received the Multicultural Publishers Exchange Award of Merit. Kim has published five other titles, as well. Myung Mi Kim is the subject of the book The Subject of Building Is a Process / Light Is an Element: essays and excursions for Myung Mi Kim. She has taught at San Francisco State University and in the Poetics Program at SUNY Buffalo.
---
LAMENTA: 423
"peacekeeping troops"
"tanks beneath the windows"
The inside of someone else's dwelling visible — a table and some chairs.
You start to count one, two, three, four . . . until the explosion is near your neighborhood.
You can guess the position of mortar by this counting and try to find a safe place.
If the windows are gone, weak plastic is taped up but the strong wind comes and we stay awake.
In this South Cholla Province where all vehicles had been confiscated, we resorted to walking, the method of travel of the Yi Dynasty. We reverted back 300 years.
Kwangju, 1980
It's the same to be in the house, at the shelter or anywhere. There is no safe place.
When we have no electricity, we are sitting in the dark and we know what life looked like before Christ.
Sarajevo, 1992
---
Links
---
Media
Societies of American Poetry: Dissenting Practices | February 22, 2003
Social / Lyric