Monica Arac de Nyeko
Posted in Past Guests | Tagged N-S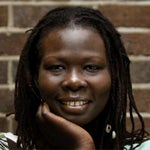 Monica Arac de Nyeko is from Uganda and was born in Kampala in 1979. She studied in Makerere (Uganda) and Groningen (Netherlands) Universities for a degree in education and MA in humanitarian assistance respectively. A member of the Uganda Women Writers Association (FEMRITE), Arac de Nyeko has worked in Uganda as a literature and English language teacher in St Mary's College Kisubi (SMACK) and in Rome, Khartoum and currently Nairobi in development. She has been a fellow on British Council's Crossing Borders programme.
Monica Arac de Nyeko was short listed for the Caine Prize for African Writing in 2004 for "Strange Fruit" and went on to win the award in 2007 with "Jambula Tree." Her short stories are forthcoming in two anthologies, Jazz, Miracles and Dreams edited by Helon Habila and Kadija George and, City Link and Other Stories a collection of short stories from East Africa. She is currently working on a novel.
---
From The Banana Eater
Her name was Nalule. Everyone called her Naalu, except for the silly estate boys who spent their afternoons whistling after girls. They called her Shortido. They said she was a dwarf. That her legs were short and fat. That her calves were the size of Kimbo tins. The boys said there were no more than twenty strands of hair on Naalu's scalp. But these things weren't true. Naalu's hair was thin, but it was dark and beautiful. Her calves were more like tumpeco mugs.
Naalu and her family lived a block from us, in number G.16 in the housing estates. Many things about our houses were similar. Their size: a kitchen and store, a sitting room and a bedroom. The paint: cream and magenta against a brown tiled roof. Only our backyards were different. Theirs was almost bare—grassless and without any bougainvillea, thornbrush, or red euphorbia fencing to keep trespassers or vagabonds away. Ours was lush with paspalum grass. We had flowers too. In the rain season, dahlias and hibiscuses bloomed; so did roses and sophornitellas, cosmos and bleeding heart vines. Everyone who passed by our house said the garden gave a fine display of color and fragrance. "What is your secret?" they asked. Ma said it was hard work, but I thought she should say it was passion.
Links
Media
Reading | October 24, 2007