Michael S. Glaser
Posted in Past Guests | Tagged G-M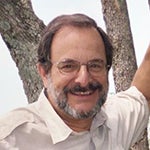 From 2004 to 2009, Michael S. Glaser served as Poet Laureate of Maryland. Over 500 of Glaser's poems have been published in such literary journals and newspapers as the American Scholar, New Letters, The Antioch Review, as well as many anthologies. Glaser is recipient of the Homer Dodge Endowed Award for Excellence in Teaching, and has also received the Columbia Merit Award from the Poetry Committee of the Greater Washington, D.C. area. He is a Professor Emeritus at St. Mary's College of Maryland, where he was professor and administrator for over forty years.
---
My Daughter Turns 18
I'm going to sleep on Jonathan's boat tonight
She announces….
And what is my role now? What do I say?
What silences are best observed?
My mind reels: "what if this, and what if that?"
What if this guy ruins her life? Well, not ruins it,
I think, but …. she has such potential!
Possibilities stretch before her–
I can't control the father in me, blurting out,
blurting on and on. . . . And this fellow, this
Jonathan! A sweet boy, no doubt, but
must he spend every moment of the day
and night with my daughter, must he love her
so unconditionally she turns blind as stone?
"You're a flower," I want to say, "A sprig
just potted in rich soil. You're blind with
infatuation. Get a Grip!" I want to yell.
But I calm myself. Such words would hurt,
her eyes would well up, her unsullied spirit
flinching back,
"What do you know?!" she would snap,
"what do you know about love?"
insistent, demanding — a question my age
has begun to suggest I ask myself
as, daily, I confront my failures, as here too,
with her: What do I know about love?
I fall silent, dumb.
I turn to prayer.
It is my last, best hope,
perhaps my only hope.
"Dear Lord," I mumble to myself,
"Dear Lord!"
---
Links
Oral History Interview with Adrienne Milner. Saint Mary's College. 25 October 2010.
---
Media
Literacy, Literature and Democracy | April 7, 2010
Writing (and Working) Beyond Genocide: Literary, Cultural and Social Activisms in a Changing Africa