Michael Ondaatje
Posted in Past Guests | Tagged N-S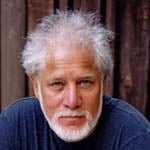 One of the world's foremost writers, Canadian poet, novelist and memoirist Michael Ondaatje writes at the intersection of cultures, often disrupting conventional forms. While he is best known as the author of The English Patient (later made into an Academy Award-winning film), he is also acclaimed for his poetry, including Handwriting, and The Cinnamon Peeler. His other prose books include Running in the Family, Anil's Ghost, The Skin of the Lion, Coming Through Slaughter and The Collected Works of Billy The Kid. "Writing poetry and fiction, momentarily clutching his Asian heritage then spinning it off like a jitterbug partner, Ondaatje and his imagination can leap continents in a single paragraph" (Voice Literary Supplement).
---
Application For A Driving License
Two birds loved
in a flurry of red feathers
like a burst cottonball,
continuing while I drove over them.
I am a good driver, nothing shocks me.
---
Links
---
Media
Seminar | October 26, 2010
Reading | October 26, 2010