Marlene Nourbese Philip
Posted in Past Guests | Tagged N-S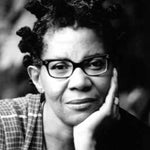 Born in 1947 in Tobago, Marlene Nourbese Philip, usually credited as M. NourbeSe Philip, is a Canadian poet, novelist, playwright, essayist and short story writer. After being educated at the University of the West Indies, Philip received advanced degrees in political science and law at the University of Western Ontario. During her seven years of practicing law, she completed two books of poetry. Although primarily a poet, NourbeSe Philip also writes both fiction and non-fiction. She has published three books of poetry, Thorns (l980), Salmon Courage (1983) and She Tries Her Tongue; Her Silence Softly Breaks (1988). She has received several Canada Council awards, numerous Ontario Arts Council grants, and the Toronto Arts Council award in l989. Additionally, her first novel, Harriet's Daughter was a runner up for both the 1989 Canadian Library Association Prize and the Max and Greta Abel Award for Multicultural Literature.
---
Anonymous
If no one listens and cries
is it still poetry
if no one sings the note between the silences
if the voice doesn't founder on the edge of the air
is it still music
if there is no one to hear
is it love
or does the sea always roar
in the shell at the ear?
---
Links
---
Media
Reading with Xue Di | September 30, 1999