Mark Doty
Posted in Past Guests | Tagged A–F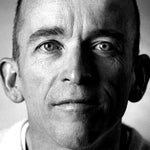 Born in Maryville, Tennessee, Mark Doty has published eight books of poetry. His 2008 collection, Fire to Fire: New and Selected Poems, won the National Book Award for Poetry. A recipient of fellowships from the Guggenheim, Ingram Merrill and Lila Wallace/Readers Digest Foundations, and the National Endowment for the Arts; Doty's nonfiction prose and poetry have garnered him the National Book Critics Circle Award, the Los Angeles Times Book Prize, a Whiting Writers Award, two Lambda Literary Awards, and the PEN/Martha Albrand Award for First Nonfiction. He is also the sole American recipient of the United Kingdom's T.S. Eliot Prize. Doty is Professor/Writer in Residence at Rutgers University.
---
The Embrace
You weren't well or really ill yet either;
just a little tired, your handsomeness
tinged by grief or anticipation, which brought
to your face a thoughtful, deepening grace.
I didn't for a moment doubt you were dead.
I knew that to be true still, even in the dream.
You'd been out–at work maybe?–
having a good day, almost energetic.
We seemed to be moving from some old house
where we'd lived, boxes everywhere, things
in disarray: that was the story of my dream,
but even asleep I was shocked out of the narrative
by your face, the physical fact of your face:
inches from mine, smooth-shaven, loving, alert.
Why so difficult, remembering the actual look
of you? Without a photograph, without strain?
So when I saw your unguarded, reliable face,
your unmistakable gaze opening all the warmth
and clarity of you–warm brown tea–we held
each other for the time the dream allowed.
Bless you. You came back, so I could see you
once more, plainly, so I could rest against you
without thinking this happiness lessened anything,
without thinking you were alive again.
–
From Sweet Machine (Harper Collins, 1998)
---
Links
---
Media
Seminar | September 17, 2013
Reading | September 17, 2013