Lyn Hejinian
Posted in Past Guests | Tagged G-M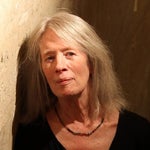 Born in the San Francisco Bay Area in 1941, Lyn Hejinian has published over a dozen books of poetry in addition to essay collections and two translated volumes, including a gRReat adventure, which she self-published in 1972, The Language of Inquiry, and The Book of a Thousand Eyes. Hejinian, a founding figure of the Language movement, was editor of Tumba Press and co-edited Poetics Journal with Barrett Watten for 18 years. In addition to currently teaching poetics at University of California, Berkeley, Hejinian also co-edits Atelos and sponsors the NBC Thursday Night DeCal course at Berkeley. Lyn Hejinian has received awards and grants from the California Arts Councel, the National Endowment of the Arts, Guggenheim Foundation, and many others.
---
[A straight rain is rare]
A straight rain is rare and doors have suspicions
and I hold that names begin histories
and that the last century was a cruel one. I am pretending
to be a truck in Mexico. I am a woman with a long neck and a good burden
and I waddle efficiently. Activity never sleeps and no tale of crumbling cliffs
can be a short one. I have to shift weight favorably. Happiness
can't be settled. I brush my left knee twice, my right once,
my left twice again and in that way advance. The alphabet
and the cello can represent horses but I can only pretend
to be a dog slurping pudding. After the 55 minutes it takes to finish
my legs tremble. All is forgiven. Yesterday is going the way of tomorrow
indirectly and the heat of the sun is inadequate at this depth. I see
the moon. The verbs ought and can lack infinity and somewhere
between 1957 when the heat of the dry sun naughtily struck me
and now when my secrets combine in the new order of cold rains
and night winds a lot has happened. Long phrases
are made up of short phrases that bear everything "in vain" or "all
in fun" "for your sake" and "step by step" precisely. I too can spring.
---
Media
Reading with Tom Raworth | March 26, 2002