Lisa Robertson
Posted in Past Guests | Tagged N-S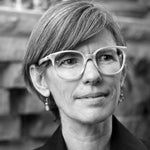 Born in Toronto, Canadian writer Lisa Robertson lived in Vancouver for twenty-three years, where she was a participant in the continuing utopian experiment called The Kootenay School of Writing. She now lives in France. Her books of poetry include XEclogue, Debbie: An Epic, The Weather (New Star Books/ Reality Street Editions) and Rousseau's Boat (Nomados). Recently published by Clear Cut Press and in Canada, Coach House, is Occasional Works and Seven Walks from the Office for Soft Architecture, a linked series of prose essays on cities, architecture and ornament, and a book of poems, The Men: A Lyric Book (Bookthug) This fall she is Holloway poet in residence at UC Berkeley.
---
[Sometimes I want a corset like…]
Sometimes I want a corset like
to harden me or garnish. I
think of this stricture—rain
language, building—as a corset: an
outer ideal mould, I feel
the ideal moulding me the ideal
is now my surface just so very
perfect I know where to buy it and I
take it off. I take it off. If all things fall
and we are just emperors, serious
and accurate and fugitive
in such dormant lines of gorgeousness
the day is a locksmith
dew lies long on the grass
and I a rustic ask: what is
a surface—and respond
only omniscience, the crumpling face
as the domestic emotions elucidate
themselves a sea of mist
exists so strangely side by side
the potent mould of anarchy and scorn.
---
Links
---
Media
Reading with James Scully | October 5, 2006