Lisa Jarnot
Posted in Past Guests | Tagged G-M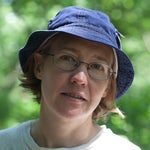 Lisa Jarnot was born in Buffalo, New York in 1967 and studied at the State University of New York at Buffalo and Brown University. Since the mid-1990s she has been a resident of New York City. She has edited two small magazines as well as The Poetry Project Newsletter and An Anthology of New (American) Poetry (1997). She is the author of four full-length collections of poetry, including Some Other Kind of Mission (Burning Deck Press, 1996) and Night Scenes (Flood Editions, 2008). Her biography of the San Francisco poet Robert Duncan was published by the University of California Press in 2012 and was shortlisted for the National Book Critics Circle Award, the Randy Shilts Award for Gay Non-Fiction, and received Honorable Mention in Literature from American Publishers Awards program. A Selected Poems was published by City Lights in May of 2013. She currently lives in Jackson Heights, New York with her husband and daughter.
---
Marcus Aurelius Rose
for Thomas
From the five good emperors
I have learned that there were five good emperors,
From the lemon tree I've planted
now I know that leaves unpummeled yet will drop,
From the clock, the time, it's five p.m.,
from the sun the length of day,
From Quercus borealis, the queer names of the leaves
of all the trees,
From burning I've learned burning,
from the aster family chickory abounds,
From hawkweed of the colors bright,
from sleeping, of my dreams,
From mosquitoes, scratching, from fishes, fishing,
from turkeys how to run and how to hop,
From erect perennials I've learned to reach the shelf,
from my cats to lick the dark part of the tin,
From the sparrows I've learned this and that,
from Germanic tribes, to gather thoughts in herds,
From the window blinds, from the sun decayed,
from the heart, a brimming record braised and turned.
---
Links
---
Media
Societies of American Poetry: Dissenting Practices | February 21, 2003
Field Work
Reading with Anne Waldman | February 12, 2002