Leslie Scalapino
Posted in Past Guests | Tagged N-S
Experimental prose writer, playwright, essayist, editor,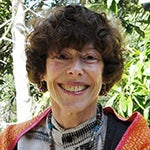 and poet Leslie Scalapino earned an M.A. in English from the University of California at Berkeley. Scalapino's poetry has been widely anthologized, including appearances in the influential Postmodern American Poetry, From the Other Side of the Century, and Poems for the Millennium anthologies, as well as the popular Best American Poetry and Pushcart Prize series anthologies. Her 1988 long poem, "way," won the Poetry Center Award, the Lawrence Lipton Prize, and the American Book Award.
---
"from the waist–so that, turned the bulb that's oneself (thorax)…"
from the waist–so that, turned the bulb that's oneself (thorax)
–only–then–doesn't have any existence–turned (wherever one
turns)
as conception–at waist of magnolia buds that exist in the day
really
sewing the black silk irises–not when one turned at waist
sewing them, they have no shape literally except being that–
from one's hand (being, in the air)
the irises only had existence in the black, before dawn, in fact
a man doesn't want me to become quiet again–go into ocean
not weighed of before fighting–ever
formation of that of narrowed to no form in one–of black volup-
tuous lip–outside–voluptuous lips that (aren't) on black dawn, or
before it when it's black.
There was no intention–being done–with their existing.
not weighed before fighting which is the black, weighed, air–
not the lips which have no weight–isn't following
if one's not contending…so the inner isn't contending either…?
---
Links
---
Media
Seminar with Ron Silliman | February 3, 2005
Reading with Ron Silliman | February 3, 2005
Seminar with Mark Rudman | October 16, 1997