Kaia Sand
Posted in Past Guests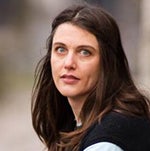 Portland, Oregon-based Kaia Sand is a poet and teacher as well as the author of A Tale of Magicians Who Puffed Up Money that Lost its Puff (forthcoming), Remember to Wave, and interval, which was named Small Press Traffic Book of the Year in 2004. With Jules Boykoff, she co-authored Landscapes of Dissent. She is a member of PEN American Center and has received grants from the Regional Arts and Culture Council. In the 90s, she began a zine called theTangent with Jules Boykoff, Neal Sand, and Max Boykoff. theTangent later evolved into a radio show, reading series, and small press. She is currently the resident poet at Portland State University Honors Program and, in a collaboration with artist Garrick Imatani, is artist-in-residence at the City of Portland Archives and Records Center.
---
Letter to Layla al-Attar
who
among us can imagine ourselves
unimagined?
Lucille Clifton
Layla,
your daughter bombed
blind, you, dead.
Pilots, fouled by speed,
troll your crescent.
Bound by
bafflement, happy-
go-lucky, we are criminal,
thieving fortunes like
desktop playthings.
My national identity
speaks for me, across
natio nal boundaries,
to the dead
end of this imperialist
fiasco.
---
Links