Junot Díaz
Posted in Past Guests | Tagged A–F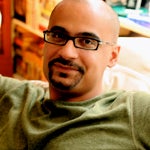 Junot Díaz was born in 1968 in the Dominican Republic and raised in New Jersey. He is the author of Drown and The Brief Wondrous Life of Oscar Wao, which won the John Sargent, Sr., First Novel Prize; the National Book Critics Circle Award; the Anisfield-Wolf Book Award; and the 2008 Pulitzer Prize.
Díaz has been awarded the Eugene McDermott Award, a fellowship from the Guggenheim Foundation, a Lila Acheson Wallace Reader's Digest Award, the 2002 PEN/Malamud Award, the 2003 U.S./Japan Creative Artist Fellowship from the National Endowment for the Arts, a fellowship at the Radcliffe Institute for Advanced Study at Harvard University, and the Rome Prize from the American Academy of Arts and Letters. He is the fiction editor at the Boston Review and The Rudge (1948), and Nancy Allen Professor at the Massachusetts Institute of Technology. He lives in Cambridge, Massachusetts.
---
from The Pura Principle
Those last months. No way of wrapping it pretty or pretending otherwise: Rafa estaba jodido. By then it was only me and Mami taking care of him and we didn't know what the fuck to do, what the fuck to say. So we just said nothing. My mom wasn't the effusive type anyway, had one of those event-horizon personalities—shit just fell into her and you never really knew what she felt about it. She just seemed to take it, never gave anything off, not light, not heat. Crinkled her eyes, maybe, or frowned, but that was it. Me, I wouldn't have wanted to talk even if she had been game. The few times my boys at school tried to bring it up, I flipped. Told them to mind their own fucking business. To get out of my face. I was seventeen and a half. Smoking so much bud that if I remembered an hour from any one of those days it would have been a lot.
—
Continue reading "The Pura Principle" at The New Yorker.
---
Links
---
Media
Writing Dangerously in Immigrant America | April 5, 2011
Junot Díaz