Juan Felipe Herrera
Posted in Past Guests | Tagged G-M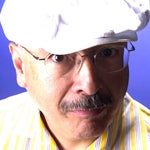 Juan Felipe Herrera is the son of migrant farm workers, Lucha Quitnana from El Paso, Texas, and Felipe Emilio Herrera from El Mulato, Chihuahua. During the early fifties, he was raised in the small towns, ranches and worker fields of the San Joaquín Valley. By the time Elvis became famous, his family settled in Logan Heights Barrio, San Diego, and then in San Francisco's Mission District. After graduating from San Diego High in 1967 Juan Felipe became part of the first wave of Chicanos to receive an EOP scholarship to attend UCLA. There he became an activist, teatrista (founding community performance ensembles, Teatro Chichimeca and Teatro Tolteca), and a poet interested in experimental poetry and theatre and indigenous cultures.
These concerns inspired him to lead the first formal Chicano trek to Mexican Indian endangered cultures, in particular the Lacandón rain forest villages of Chiapas, the Totonaca villages of northern Veracruz, and the Huichol communities in the mountains of Nayarit. This journey changed his life as a human being and as an artist. He has exhibited the photography and video of this journey ever since and has written on the subject in various genres.
A graduate of Stanford University and the Iowa Writer's Workshop, Juan Felipe has published 24 volumes of poetry, prose, theatre, children's books, and young adult novels — winner of over fifty awards, fellowships, and honorable mentions. Some of his work has been put to musicals in New York and opera in Houston, Texas. His most recent publications Cinnamon Girl: Letters Found Inside a Cereal Box (Harper Collins – Joanna Colter Books) and Downtown Boys (Scholastic Press) won major national awards. New work includes 187 Reasons Mexicanos Can't Cross the Border: Undocuments 1971-2007 (City Lights, SF, Fall '07) and Half of the World in Light: New and Selected Poems (University of Arizona Press, Tuscon, Spring '08). His recent play musical for children and young adults, Salalandia, debuted at the La Jolla Playhouse at the end of January 2008.
Currently, Juan Felipe's interests are writing plays for children and young adults, poetry operas, poetry and dance theatre and painting. At the University of California — Riverside, Juan Felipe holds the Tómas Rivera Endowed Chair in Creative Writing where he is a professor in the department of Creative Writing.
---
[Let Us Gather in a Flourishing Way]
Let us gather in a flourishing way
with sunluz grains abriendo los cantos
que cargamos cada día
en el young pasto nuestro cuerpo
para regalar y dar feliz perlas pearls
of corn flowing árboles de vida en las cuatro esquinas
let us gather in a flourishing way
contentos llenos de fuerza to vida
giving nacimientos to fragrant ríos
dulces frescos verdes turquoise strong
carne de nuestros hijos rainbows
let us gather in a flourishing way
en la luz y en la carne of our heart to toil
tranquilos in fields of blossoms
juntos to stretch los brazos
tranquilos with the rain en la mañana
temprana estrella on our forehead
cielo de calor and wisdom to meet us
where we toil siempre
in the garden of our struggle and joy
let us offer our hearts a saludar our águila rising
freedom
a celebrar woven brazos branches ramas
piedras nopales plumas piercing bursting
figs and aguacates
ripe mariposa fields and mares claros
of our face
to breathe todos en el camino blessing
seeds to give to grow maiztlán
en las manos de nuestro amor
---
Links
---
Media
Writing Dangerously in Immigrant America | April 6, 2011
Juan Felipe Herrera and Cristina García