John Freeman
Posted in Past Guests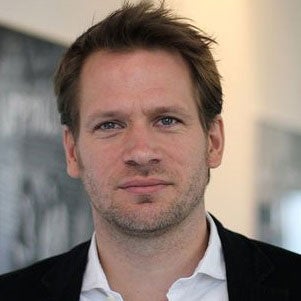 John Freeman is the editor of Freeman's, a literary annual of new writing, and executive editor at Alfred A. Knopf. His books include How to Read a Novelist and Dictionary of the Undoing, as well as Tales of Two Americas, an anthology about income inequality in America, and Tales of Two Planets, an anthology of new writing about inequality and the climate crisis globally. He is also the author of two poetry collections, Maps and The Park. His work is translated into more than twenty languages, and has appeared in The New Yorker, The Paris Review, and The New York Times. The former editor of Granta, he teaches writing at New York University.
---
Sarajevo (Summer 2016)
She pointed, two hundred meters: there. I was
fifteen. We were drinking wine outside
a bookshop. The shelling lasted
all night. The ruby-colored sunset, the river
close. The theater so crowded
people sat in one another's laps. Bombs fell so near every
few minutes, parts of the stage splintered.
I'm leaning on a car, cool
metal, smoked glass. The actors,
she tells me, didn't flinch, didn't miss
a single line. The audience
didn't move, didn't
make a sound.
You're here; you survived;
and you're there —
floor shaking, streets buckle —
watching a play that
for eternity will last.
From Maps (Copper Canyon Press, 2017)
---
Links
---
Media
Aminatta Forna in Conversation with John Freeman | November 9th, 2021
Seminar with Eula Biss | February 26, 2019
Reading with Eula Biss | February 26, 2019
Writing in the Englishes | March 28, 2017
The Canon: Do Countries Need a National Literature? | March 28, 2017
Authors' Reading | March 28, 2017
Seminar with Aminatta Forna and Marlon James | September 23, 2016
Reading with Aminatta Forna and Marlon James | September 23, 2016
Conversation with Aminatta Forna | November 17, 2015