Jo Shapcott
Posted in Past Guests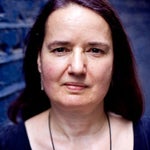 Born in London, Jo Shapcott has published three award-winning collections, which have been gathered in a selected poems, Her Book (2000). She has won a number of literary prizes including the Commonwealth Writers' Prize for Best First Collection, the Forward Prize for Best Collection and the National Poetry Competition, and the Cholmondeley Award. Of Mutability, her most recent collection, was published in 2010 and won the Costa Book Award. In 2011, Jo Shapcott was awarded the Queen's Gold Medal for Poetry. She currently teaches at Royal Holloway, University of London, serves as the President of the Poetry Society, and is a tutor for the Arvon Foundation.
---
Hairless
Can the bald lie? The nature of the skin says not:
it's newborn-pale, erection-tender stuff,
every thought visible,—pure knowledge,
mind in action—shining through the skull.
I saw one, a woman, hairless absolute, cleaning.
She mopped the green floor, dusted bookshelves,
all cloth and concentration, Queen of the moon.
You can tell, with the bald, that the air
speaks to them differently, touches their heads
with exquisite expression. As she danced
her laundry dance with the motes, everything
she ever knew skittered under her scalp.
It was clear just from the texture of her head,
she was about to raise her arms to the sky;
I covered my ears as she prepared to sing, roar,
to let the big win resonate in the little room.
–
From Poetry
---
Links
---
Media
Seminar | October 14, 2014
Reading | October 14, 2014