Jerome Rothenberg
Posted in Past Guests | Tagged N-S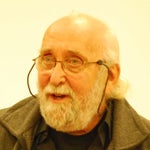 Born to Polish Jewish parents and raised in New York City, Jerome Rothenberg has authored over seventy books of poetry including Poland/1931 (1974), That Dada Strain (1983), A Poem of Miracles (2013), Khurbn (1989), and most recently, Shaking the Pumpkin: Traditional Poetry of the Indian North Americas, (2014). Describing his poetry career as "an ongoing attempt to reinterpret the poetic past from the point of view of the present," he has also edited seven major assemblages of traditional and contemporary poetry, including Technicians of the Sacred (1985), comprised of tribal and oral poetry from Africa, America, Asia, Europe, and Oceania, Revolution of the Word (1974), a collection of American experimental poetry between the two world wars and two volumes of Poems for the Millennium (1995, 1998), which won the Josephine Miles Award in 1996. In 1999 and again in 2001 he was a co-organizer of the People's Poetry Gathering, a three-day festival, under joint sponsorship by City Lore and Poet's House in New York City. Rothenberg was elected to the World Academy of Poetry (UNESCO) in 2001.
Charles Bernstein, Penn's Reagan Professor of English and Kelly Writers House regular, has said, "The significance of Jerome Rothenberg's animating spirit looms larger every year. … [He] is the ultimate 'hyphenated' poet: critic-anthropologist-editor-anthologist-performer-teacher- translator, to each of which he brings an unbridled exuberance and an innovator's insistence on transforming a given state of affairs."
---
Last Friend
 
The day the last friend
dies
we sit alone.
A visitor
from outer space
tries hard
to summon us.
Someone says
EAT DEATH.
I fish around for answers
but the questions
still won't come.
I take the small vial
from your pocket
sniff it & near die.
The police are negligent
at best.
Nor is there room for angels
The storms drift in from Mexico
where once we roamed.
The way your chest
moves up & down
when breathing
is a clear response.
I want some reassurance:
that even when I die
the world goes on.
---
Links
---
Media
Reading with Ammiel Alcalay | September 25, 2001