James Scully
Posted in Past Guests | Tagged N-S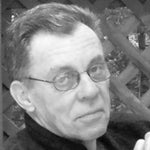 For many years, James Scully, along with others, quietly radicalized American poetry — in theory and in practice, in how it is lived as well as in how it is written — and this book is important not only in itself but as an indication of a necessary, healthy development in American letters.
James Scully was born in 1937 in New Haven, CT. Winner of the 1967 Lamont Award, he was also the recipient of a 1973 Guggenheim Fellowship. He spent 1973-1974 in Santiago de Chile, during the early stage of the Pinochet regime, which he documented in his poetry book, Santiago Poems.
Over the years, his poetry has appeared in many diverse periodicals. He has read his poetry at many colleges and universities, as well as the Theater of Latin America and the U.S. Congress. He has written essays and plays as well as poetry, and during the early 1980s he was general editor for Curbstone's ART ON THE LINE chapbook series.
---
Paradise
There are no men, no women,
there is human
Without irony,
because that's what left to wish for
Making love is more
than poor stick buried in a hole
Finger-tips dance over buttocks and breast
as ants through the fresh-turned earth
So thoroughly into life
we need not describe it anymore
---
Media
Reading with Lisa Robertson | October 5, 2006