J. D. McClatchy
Posted in Past Guests | Tagged G-M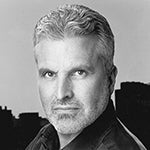 American poet and literary critic J. D. McClatchy's collections of poetry include Star Principal, The Rest of the Way, and The Ten Commandments. In 2002, his Hazmat was nominated for a Pulitzer Prize, and his next collection, 2009's Mercury Dressing won the Ambassador Book Award, which recognizes literature that adds significantly to an understanding of American life and culture. He has also written libretti for several operas.
---
A Poem Is a Cafe
 –Wallace Stevens
The view from a corner table is of corners
Angling the haze off Rue François Premier,
A dozen cats, the chestnut splayed by summer's
weight, the night's last stanzas hosed away.
A bleached tin dome over a minor saint
(An emperor's daughter who died at least for love)
Slumps in the narrow blue between the lant
Of shops whose keepers slept in cupolas above.
The precisions of carom, behind, elude the styles
That describe the cup one stirs the afternoon in,
While Madame suggests the table d'hôte and piles
These marbly saucers shored against her ruin.
The versions of those who sat here before and paid
Still puzzle the checkered cloth of conceits
Spread to pattern some papier-mâché parade
This moon may draw across the city streets,
A King touching cripples with his nougat scepter,
His fingered daughter leering along this line,
Or this. They rigged a dawn whose reflections kept her
Tin horn thinning toward noon far back in the mind.
Let there be lights, and a carafe of ordinaire
To tease us out of thoughts too dark, too dark.
There is poise in this regret so anxious in the glare
And lost as one leans forward to a casual remark.
---
Links
---
Media
Reading with Anthony Hecht | November 1, 1989